I recently connected with Lou Mongello who runs the very popular podcast and site over at wdwradio.com. He recently just released his new book: 102 Ways to Save Money For And At Walt Disney World.
For those of you who are not familiar with Lou this guy knows his stuff when it comes to Walt Disney World.
He published his first book in 2003 – A Walt Disney World Trivia book, shortly after that in 2005 he started podcasting a show dedicated to Walt Disney World.
I've been a follower of his for a while now so I was excited to get the opportunity to read what he thought were some of the best ways to save at Walt Disney World.
He sure has a lot of them, 102 money saving tips in his book that comes in at just about 200 pages.
I share his philosophy that he used to write his book, that Walt Disney World is not just a fun place to visit (which it is) but a place that families can go to build lifelong memories and bring them closer together.
The only issue these days and one of the main reasons I started Frugal Mouse was that many average families were getting priced out of a Disney World vacation. Combining this book along with Frugal Mouse could allow the average family to visit Walt Disney World for the first time or more often to build those memories which will last a lifetime.
Initial Thoughts
The book comes as a pdf download or physical book from Amazon.com. If you go with the eBook the download comes in at 11.7MB so not too big. The PDF format is a good one to use – you can use it to be viewed in all mobile devices and on desktop computers easily. I read the whole thing on a combination of my iPad and iPhone – the book looked great on both devices.
The early pages go through Lou's background as a child and how he became to be such a Disney expert. The book looks very "expensive" I would call it – you can see that he took time to have a great looking design and uses great imagery from around the parks. Sometimes when you get eBooks they can seem "cheap" but that's definitely not the case here.
The book is broken up into these sections:
Overview
Basics
Before you go
When to Go
How to go
Tickets
Disney Resorts
Booking Packages
Dining
Packing/shipping
While You Are There
Shopping
Bonus
A good number of the money saving tips in the book I would categorize as being just tips, they don't necessarily save you money but are good ideas to do.
One tip is to purchase gift cards to use in the parks, if you're just loading cash onto the gift cards to spend I don't really see that as a money saving tip. Yes it can be helped to budget but if anything most people lose money on gift cards by either a) losing them or b) leaving a few dollars on them at the end which doesn't get spent.
Some other tips I wish he would have gone into more detail on how to take advantage of them. For example Tip 7 is to use Hilton HHonors to redeem for free nights at any of the Disney area Hiltons. For that matter you can use points from Starwood, IHG, Club Carlson, Wyndham plus a few others to stay for free using points as well.
As you know I'm a huge fan and user of points of all sorts – using hotel points to stay for little or no cost can potentially save you thousands of dollars on your vacation. In the book it only get a few sentences without much explanation, I'm currently working on a lengthy post on how to utilize HHonors points for free nights.
On the flip side of that, one aspect I really enjoyed were the links out to various podcasts or blog posts that were related to some of the tips. For example he mentions a few tips around the Food and Wine festival but also links out to a few podcasts and blog posts that allow you to get more in-depth information if you're interested in that topic.
The writing style of the book lends itself to a easy read, you can easily pick up anywhere and continue on reading. I really enjoyed the list style as well, if there were some areas that didn't interest me or I was already knowledgeable about it was easily to scan through and skip those sections.
One of my favorite chapters was at the end which gives you a huge list of free things to do and experience on your trip. These aren't walk around and smell the flowers types of free things but legitimate free things to do which are completely free while you are at Walt Disney World.
I picked up a few nice free things to do in that chapter which I will be trying out on my next trip!
I consider myself a Disney expert, especially when it comes to saving money at Walt Disney World but reading this book even educated me on some additional tips & information that I was not fully aware of or knowledge in previously. Even if you think you are very knowledgable in Disney you will still probably learn a few things from this book as I did.
Who is this Book For?
I would highly recommend this book to people who have a trip or two under their belts. If you are going into planning your very first trip the information in this book while helpful, may be slightly over you head at least initially.
But with that said even if you are planning your first trip you can still learn a lot from this book .
If I were planning my trip I would approach this book as more of a reference guide, reading it cover to cover could leave you a little overwhelmed with the huge amount of information.
For example: If I were about to begin the process of finding out where to stay I would read through just the resorts section to get some great tips on how to save money with accommodations.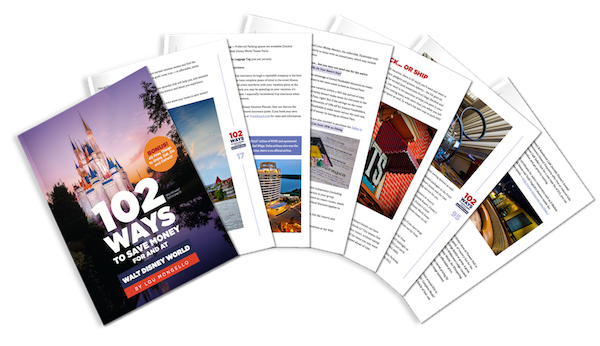 When I'm ready to purchase my park tickets the tickets section would be worth a good read through before I purchase my tickets.
Most of the information contained in this book can be found at various Disney sites online but what you lose out on is Lou's expertise, reviews and angles that he provides throughout the book. Those nuggets of information are only available through someone who has a deep knowledge of Walt Disney World inside and out.
Conclusion
I would highly recommend this book to anyone that is considering planning a trip to Walt Disney World. By following many of the 102 tips in this book you could potentially shave thousands of dollars off the cost of your vacation.
If you can pick our 20-30 tips from this book you will easily save yourself at a minimum in the high hundreds of dollars on your next vacation. The costs of the book itself ($12) will more than pay for itself in the long run!